Every time that a worker submits a timesheet they need to specify an activity. Activities allow you to capture in a 10-hour timesheet what the worker was doing.
For example, the worker submits a timesheet from 7:00 am - 5:00 pm but the activities of what the worker did on site could be:
Pre-start 7:00 am - 7:30 am
Operate Machine 7:30 am - 12:00pm
Machine Breakdown 12:00pm - 3:00pm
Travel 3:00pm - 5:00pm
The benefit of using Activities in Assignar is you can accurately track what each of your workers is doing each day and you can start to see how much time it takes them to complete tasks. You can also start to build data around what activities are taking the least and most amount of time.
How to add a Timesheet Activity
Go to Timesheets & Dockets Activities

Click + Add New Activity

Add Activity Name - I.e. Operate Machine

Select an Activity Rule - Add means to add to the total time, subtract is take away from the total time and none will not add it to the total time. We recommend always using add unless you have an activity like break then you would select subtract from the total time.

Add Sort Order number - This allows you to put what order it appears in the app when adding a timesheet.

Pay Code (optional) - Is if you want to link a specific cost or pay code to the activity

External ID (optional) - ID number to export to another system.

Click Save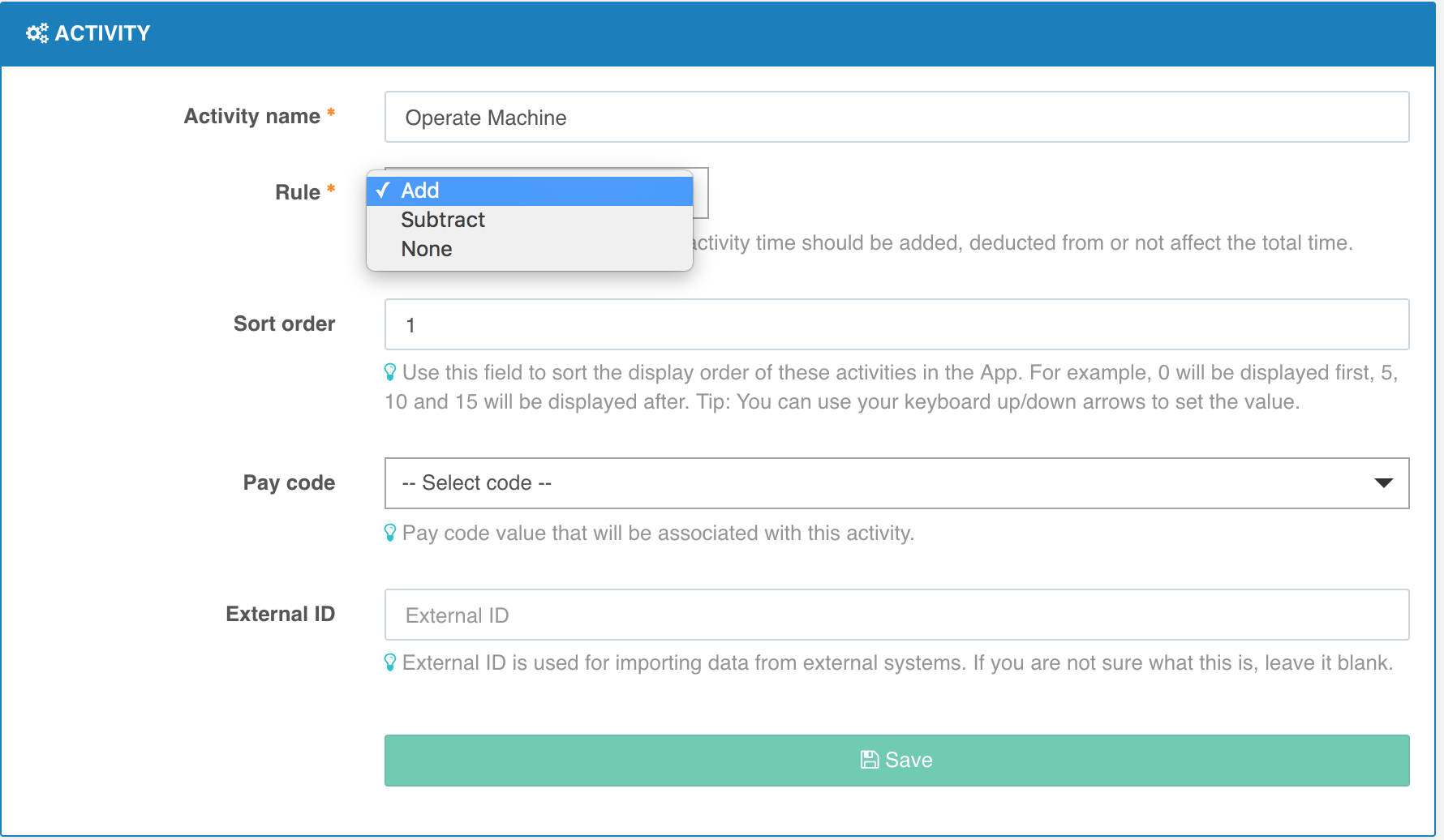 Edit or Disable Timesheet Activity
Go to Timesheets & Dockets Activities

In the Activities list view, you can see if an activity is active or disabled.

To disable the activity click the X button.

To edit the activity click the blue button.

0
0
Was this article helpful?
0 out of 0 found this helpful