Introduction
In this article you will learn what Activities are and how to setup and maintain your list of Activities. We will also provide an introduction of how Activities are used in the Mobile Application.
What are Activities in Assignar?
In Assignar, Activities are used to code worker time in the field. When this coded time is fed back into your ERP or project management solution as a cost you can ensure that your projects stay on budget.
In the back office you will set up and maintain a list of these Activities which become available for workers or supervisors to use when filling out their daily time sheets.
For example let's say Louisa fills out a time card for the day, she will be able to specify exactly how here time was spent.
7:30 AM - 8:00 AM - 002 - Overhead - Safety Inspection
8:00 AM - 10:00 AM - 004 - Site Mobilization
10:00 AM - 12:00 PM - 1102 - 10" Sewer Pipe Installation
12:00 PM - 1:00 PM - 001 - Overhead - Lunch Break
1:00 PM - 5:00 PM - 1103 - 16" Sewer Pipe Installation
This way all of Louisa's payable,non-payable time and production time is accounted for and can be accounted for when running payroll, billing for work or reviewing project budgets.
Setting Up Activities
There are 2 ways to add Activities in Assignar. The first is through the Assisted Data Import tool. You can also add Activities through the Web Application.
To get started click Work Planning in the left side navigation and then click Activities. You will be brought to Activities list view page. From here you can click the + Add New Activity button, this will open a form where you can add all of the information about your Activity. Read below for a description for all of the settings for Activities.
Activity Name - The way your users will identify your activity make it short yet descriptive.
Activity Rule - Add means to add to the total time, subtract is take away from the total time and none will not add it to the total time. We recommend always using add unless you have an activity like break then you would select subtract from the total time if you do not pay employees for breaks.
Sort Order - This allows you to put what order it appears in the app when adding a timesheet.
Pay Code (optional) - Is if you want to link a specific cost or pay code to the activity
External ID (optional) - ID number to export to another system.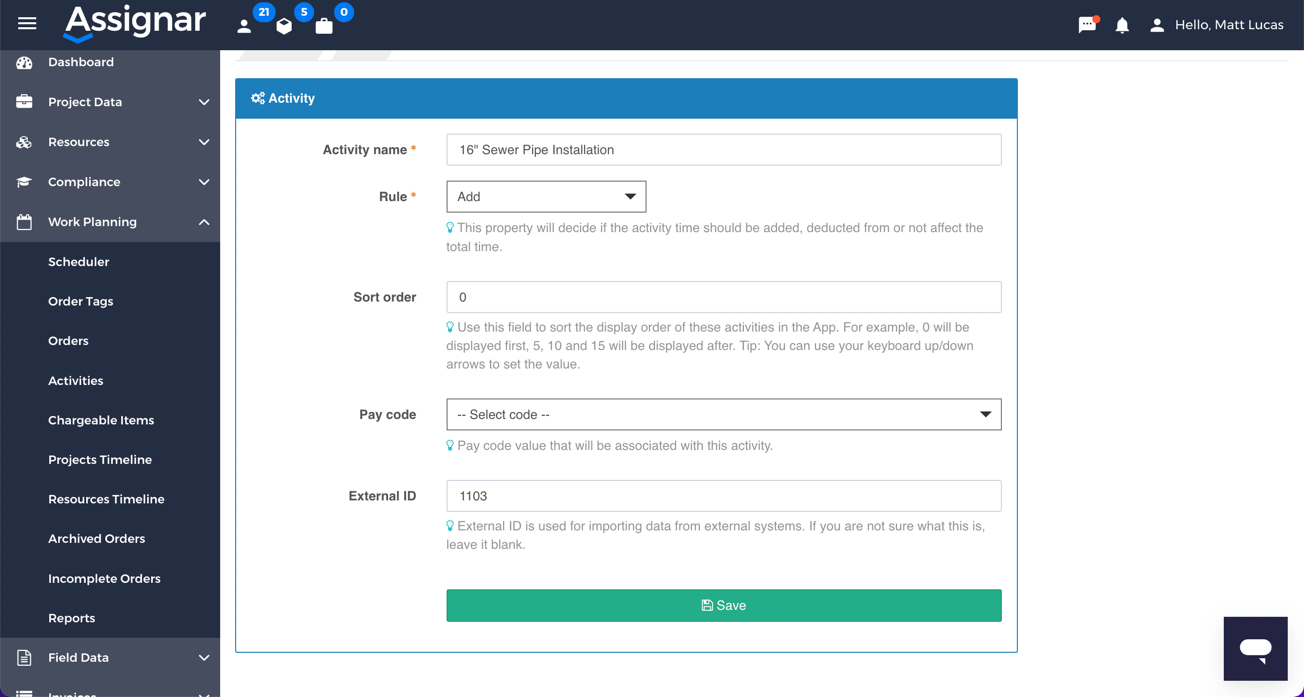 Deactivate a Cost Code
To deactivate a cost code you no longer need, click the red x on the activity in the list view.

Next Steps
You are almost ready to begin using Assignar. Next let's make sure you have your first Client and Project set up so that you can begin scheduling jobs in Assignar.