When you engage with a supplier, you'll no doubt have paperwork, documents and possibly licenses that will come with it. The best place to keep a record of these all is under Supplier Documents. You can upload files and then attach expiry dates to them to make sure you never miss an expiry and have all files in the one place. 
Add documents to a supplier
Click Suppliers Supplier Suppliers Name in the columns to view and/or update details for a specific supplier

Click on the Documents tab to view a list of documents for that supplier. 

Click Add New Supplier Document to add a brand new document for this supplier. Here you'll then select the document you wish to load against the supplier. If your document isn't there, you'll need to create it in the documents module first and then complete these steps.  

Click in Expiry Date to select an expiry date for this document from the calendar box (if applicable). 

Click in Alert Date to select a date to trigger an expiry alert for this supplier document (if applicable). The default alert date is 2 weeks before the expiry date. 

Click on the Choose File button to browse your files and attach a document or image of the document. 

Click on the Disable toggle switch, to change the document for this supplier from active (white) to deactive (blue) and vice versa. If a document is inactive it will appear as disabled in the documents list for this supplier and it will not trigger any alerts when it expires. 

Enter a comment for you own reference (optional).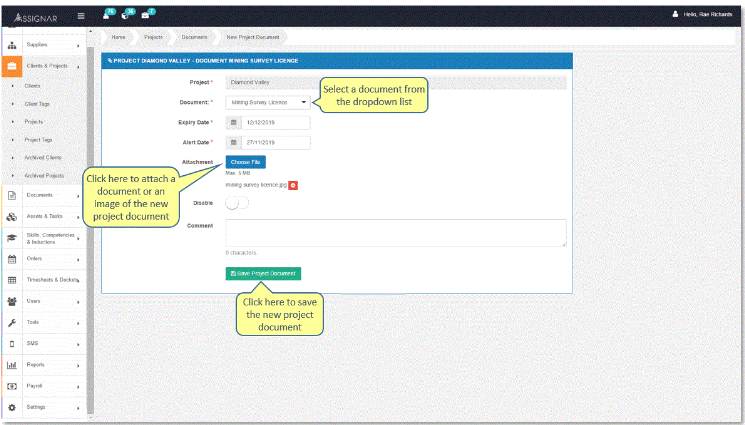 Once you have loaded in documents into the applicable supplier, you can then view these in the documents tab once you've drilled into the supplier. Here, you also have the option of seeing any documents that have previously been archived by clicking the View Documents Archive toggle found in the top left corner of the documents screen.