Setting up your Clients in Assignar means that you'll be able to build a collection of Projects and Orders (Jobs) under them. You'll also be able to manage any specific compliances needed when working with the Client such as Safety or Site inductions, and build custom reports to get a holistic view of your relationship with your Client.
If you want to setup a lot of Clients in one go, you can use our Assisted Import, which allows you setup your Clients in bulk. Or, continue reading to learn how to add Clients one at a time.
How to add a Client
Under Project Data, go to the

Clients page
Tap

Add new Client

E

nter a

Client name
Optionally, complete all the other fields (descriptions below).
Save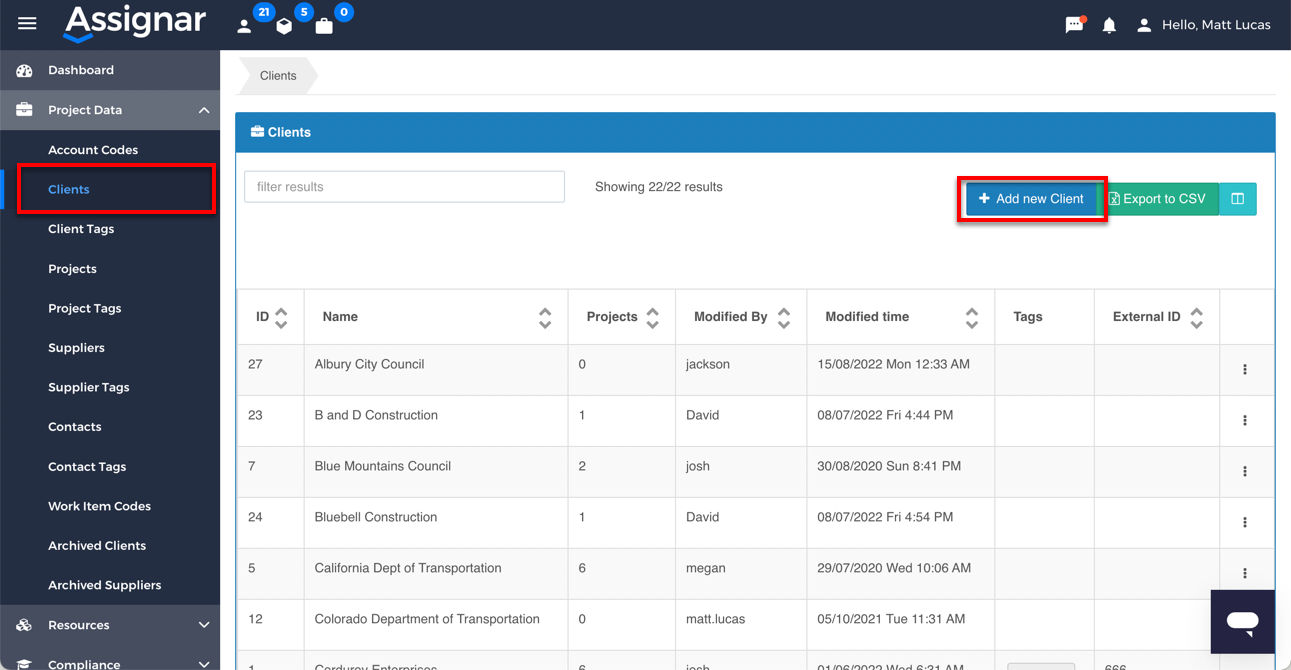 Fields
Field Description
Client name

(required)

Name of the Client's business
Active/Inactive
Turn this on if you are currently doing business with this Client.
External ID
A code from your payroll or accounting system that you can use to export from Assignar.
Inductions
Any Client specific inductions needed to perform work on one of their projects.
Competencies
Any Client specific competencies needed to perform work on one of their projects.
Role Group
A group of roles specifically made for this client or this type of Client.
Docket Templates
A specific docket template that you want to use when working with this Client.
Docket Contacts
A specific set of contacts from this customer that sign off on dockets.
Contacts
Contact information for this Client.
Tags
Client tags are used to search easily for and group similar customers.
Tax ID / ABN
Business registration number that may be required for billing or taxes.
Email
Primary email for the Client.
Office Phone
Client's business number
Mobile
Primary mobile number for the Client
Address
Client's business address
Comments
General comments about the Client.