Important Mobile Scheduling is available as an early preview now. We will be rolling out full mobile scheduling capability, and releasing to all customers, in coming months. If you would like early access, leave us a note on product.assignar.com.
What is Mobile Scheduling
With Mobile Scheduling, you'll be able to create orders, add roles, workers and equipment, as well as update the schedule, from the palm of your hand, wherever you are.
Right now, the first preview release allows you to add available and qualified workers and equipment to a shift, and you can remove workers and equipment too.
Who Can Schedule from the Mobile?
Right now, any fieldworker who has right to view the orders list - by way of the "Order Search" permission shown below - can edit allocations. This permission is disabled by default.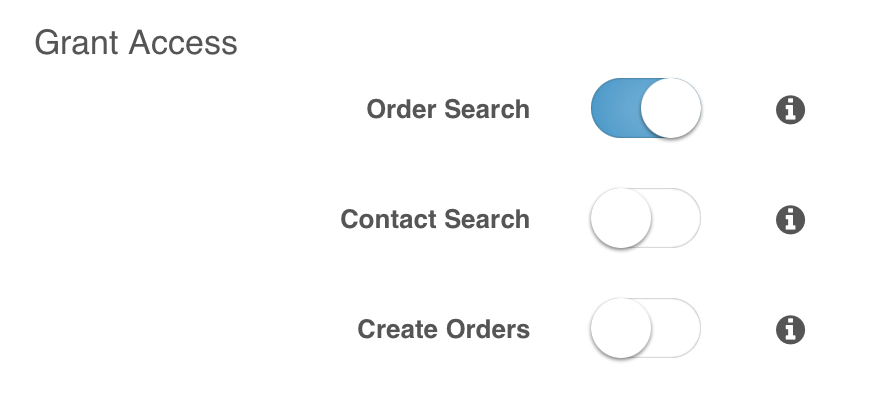 How Does it Work?
You'll find Mobile Scheduling by going to My Items, then Orders.
In the Order view, we've updated the Allocations menu to become a "Shifts" item, as this better reflects the information this view conveys.
Select a shift, then you can:
'Add New' to allocate a resource to the shift

Swipe left on any allocation to remove them from the shift.
Press Save after any changes to commit those changes back to the office.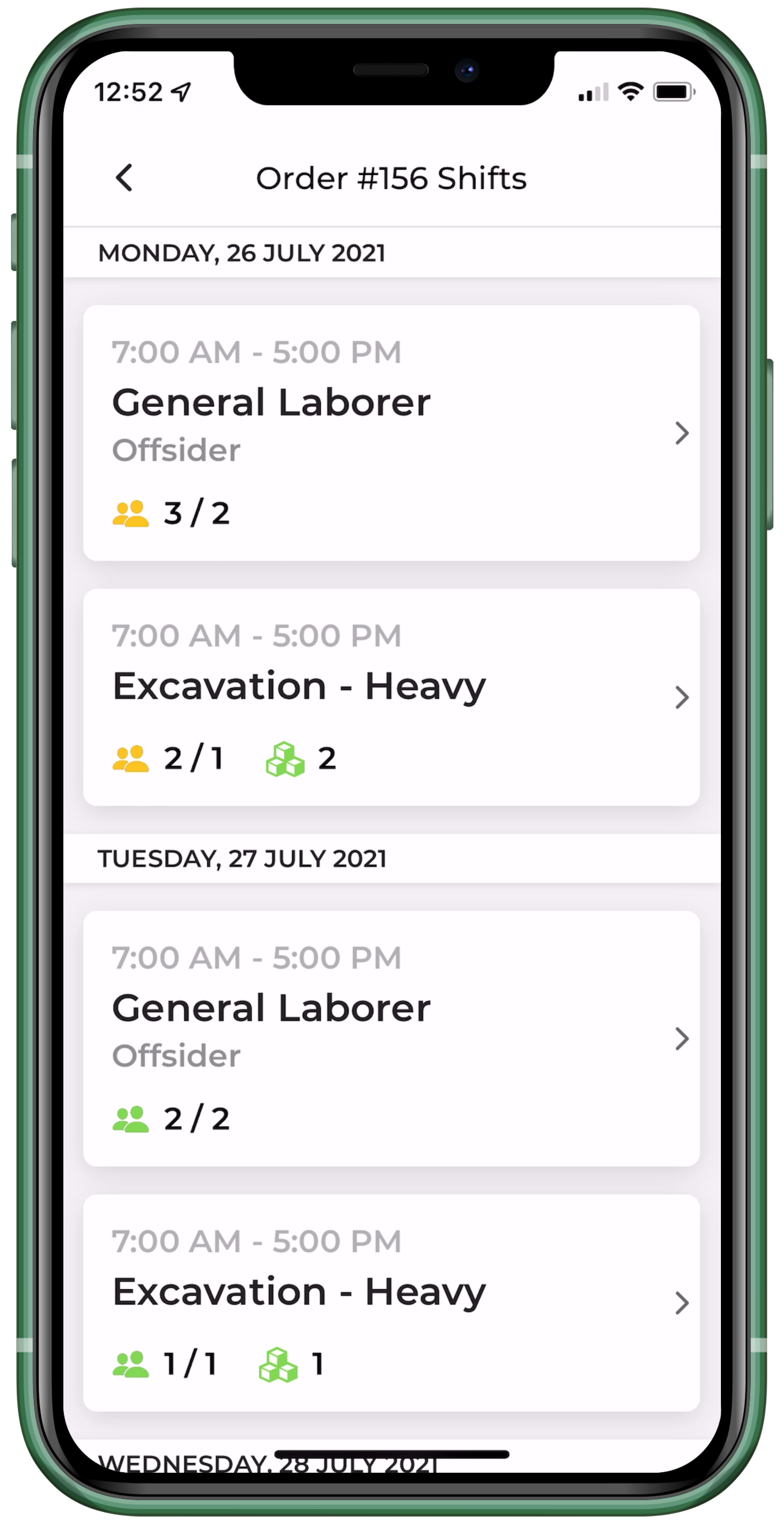 Push Shifts to Tomorrow
When work is unexpectedly delayed, whether because of bad weather, a work variation, or for any reason the work is taking longer than expected, you need to quickly update your schedule.
Now, Supervisors can quickly do this right from the fieldworker app, with just a few taps.
When you Push Shifts to Tomorrow, Assignar will copy all today's shifts, including worker assignments, to tomorrow, and move all the remaining shifts out by a day.
Try It Out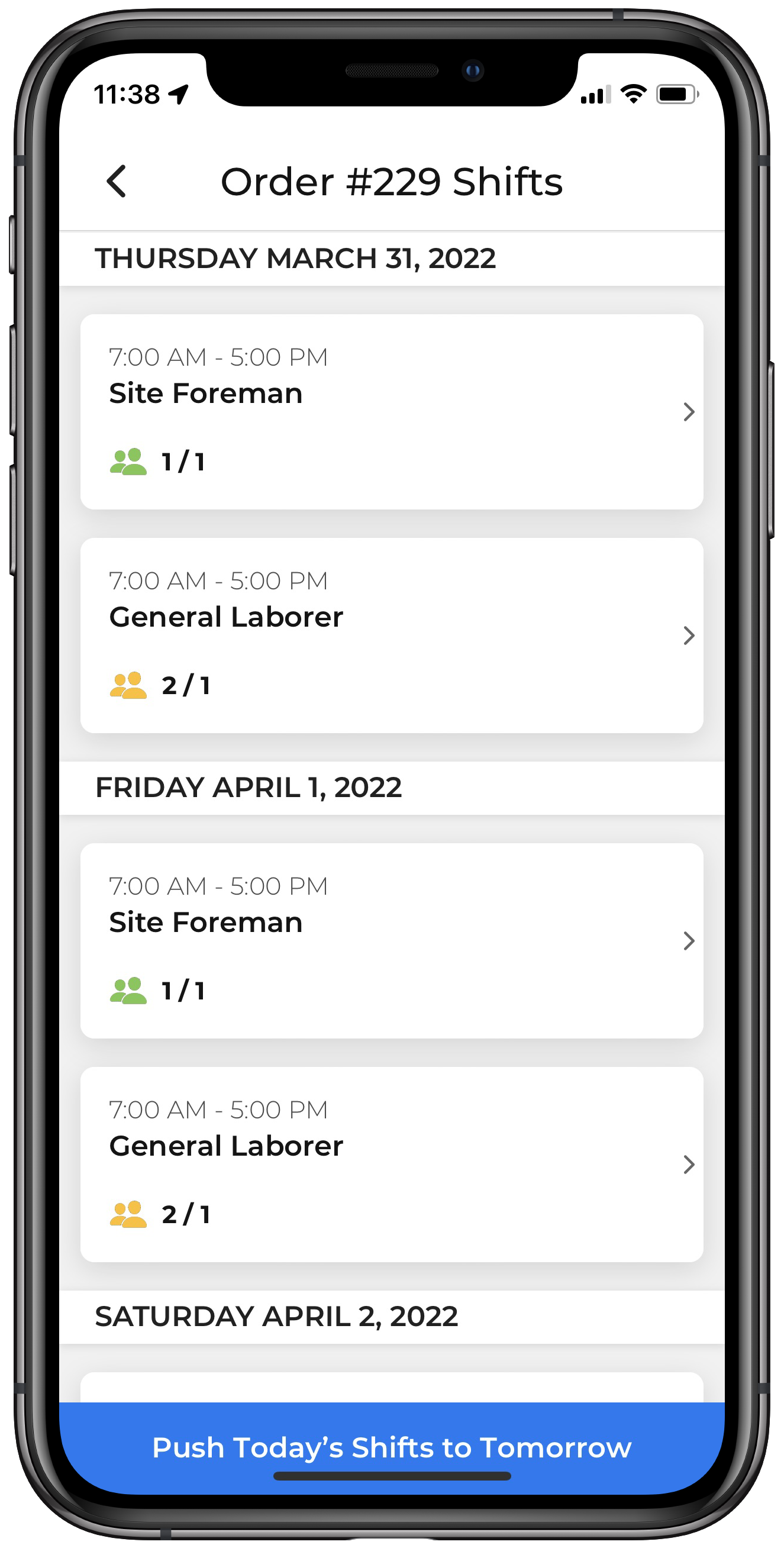 When you open an order that has work today, you'll see a new button at the bottom of the screen. Just tap the button and followthe instructions, and you will have updated your schedule.
Note: Push Shifts to Tomorrow is available for orders with fewer than 90 days remaining work.
Coming Soon
Over the coming months, we'll be adding these important features before we open Mobile Scheduling to general access:
See Allocation Conflicts in the Fieldworker

See Allocation Conflicts in the Web app

Real-time notifications of Conflicts in the Web App
If you have any feedback at all, please comment on product.assignar.com.
Mobile Scheduling and Site Diary work together