Order Templates are currently in Preview Release to selected customers, and will soon be available to all.
Introduction to Order Templates
Order Templates are Assignar's new way to make it easy to schedule out repeat work, or work that is similar in nature to your previous jobs.
With an Order Template, you can create a multi-role, multi-day job, with just a few clicks. Combine that with our recent improvements to order flexibility, and you are now able to work with maximum efficiency.
With an Order Template, you can quickly create orders based on a set duration, with multiple Order Tasks, each having their own starting offset and duration.
Create an Order from a Template
You can use Order Templates when creating an order from the new, unified timeline and calendar (that we used to call Scheduler and Project Planner). Order Templates cannot be used when creating new orders in the Orders Module.
If you have a Template saved, then when you create an order, you'll be given the option to start from a template, or start with a blank order:

If you choose to create an order from a template, then you'll find that the order duration,  as well as all the order's tasks - including their duration and start-date offset - are all there, ready to go: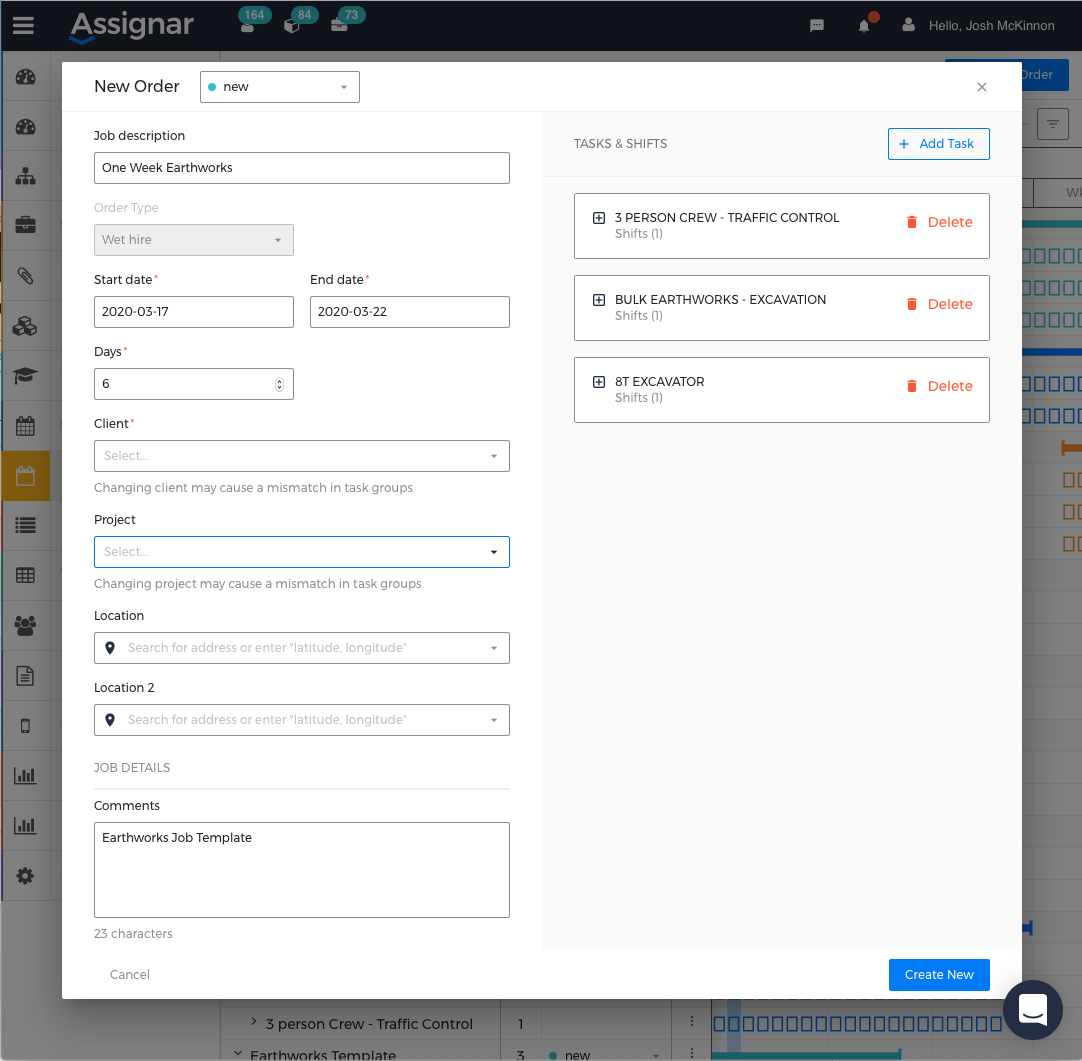 Now you can just make any necessary changes, then start allocating your workforce to the job.
Creating a Template
To create your first template, open any existing order, and click on "Create Template".
Rather than explicit dates, tasks within a template have the concept of Duration, and Offset.
The  task's Offest is the number of days after the start of the order that this task will commence. A task that starts on day five of an order has an Offset of five days.
The task's Duration is the number of days, from the offset, that this task needs to be performed. Tasks in an Order Template currently support contiguous work days - a future update will enable templates to support more complex periods like "only weekdays".