Supplier's are the companies which you might use to supply your business with goods or services such as materials ie. sand, soil etc or people ie. labourers, operators etc.
Make sure the module is turned on in your dashboard - if you can't see this as an option in the left side tool bar, speak to our support team to get this added in for you.
To add a supplier:
Click Supplier Supplier Add new supplier

Enter a supplier name. This will appear on reports and in orders (if selected) as well as supplier drop down lists in the dashboard screens.

Fill out any of the applicable fields available being, Supplier ABN, Supplier contact details etc.

Enter an external ID for the supplier (optional). This is used for importing data from external systems. If you're not sure what this is just leave it blank.

Click in tags to select one or more supplier. If you don't have any set up and not sure how to, click here to learn more about tags and creating them.

Click to add one or more contacts (optional). If you already have contacts loaded in, you'll be able to type in their names and select them from the drop box. If you haven't, just hit the "add new" button and create a new contact to add in.

Click Save when you've finished creating this new supplier. You will be taken back to the suppliers list, but you can always come back and edit the supplier later.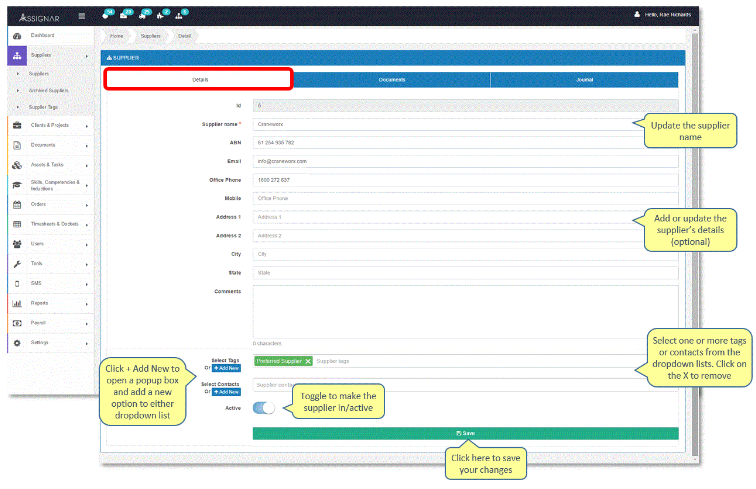 If you need to update any details on the supplier you can do this by editing the supplier.
To edit the supplier
Click Suppliers Suppliers and then select the one you wish to edit

Make any changes required and hit save.
If you archive a supplier, it will be removed from the supplier list and moved to the Archived Suppliers list. Archived suppliers are not available in supplier drop down lists in other screens eg. Orders
To archive/delete the supplier:
Click Suppliers Suppliers Click the three dots on the far right column and select Archive Supplier

You will see a message asking "Are you sure you want to archive [supplier name]?" Click OK (or cancel if you're not sure)

Click Suppliers Archived Suppliers to manage archived suppliers.
If you would like to permanently remove them from your dashboard, you can then choose to delete them when in Archived Suppliers.
If you need to restore them because they have become an active supplier again, you also have this option. Just head to Archived Suppliers and hit the three edit dots next to the supplier you want to restore.
0
0
Was this article helpful?
0 out of 0 found this helpful