To Create a new order, start on the Scheduler, and click the New Order button at the top-right of the screen.
You'll be asked if you want to create an order from a template. Templates are a great way to speed up creating orders where details like the required roles, are repetitive. Read more about this at Using Order Templates.
If you don't use a template, then a blank order form will appear as shown below.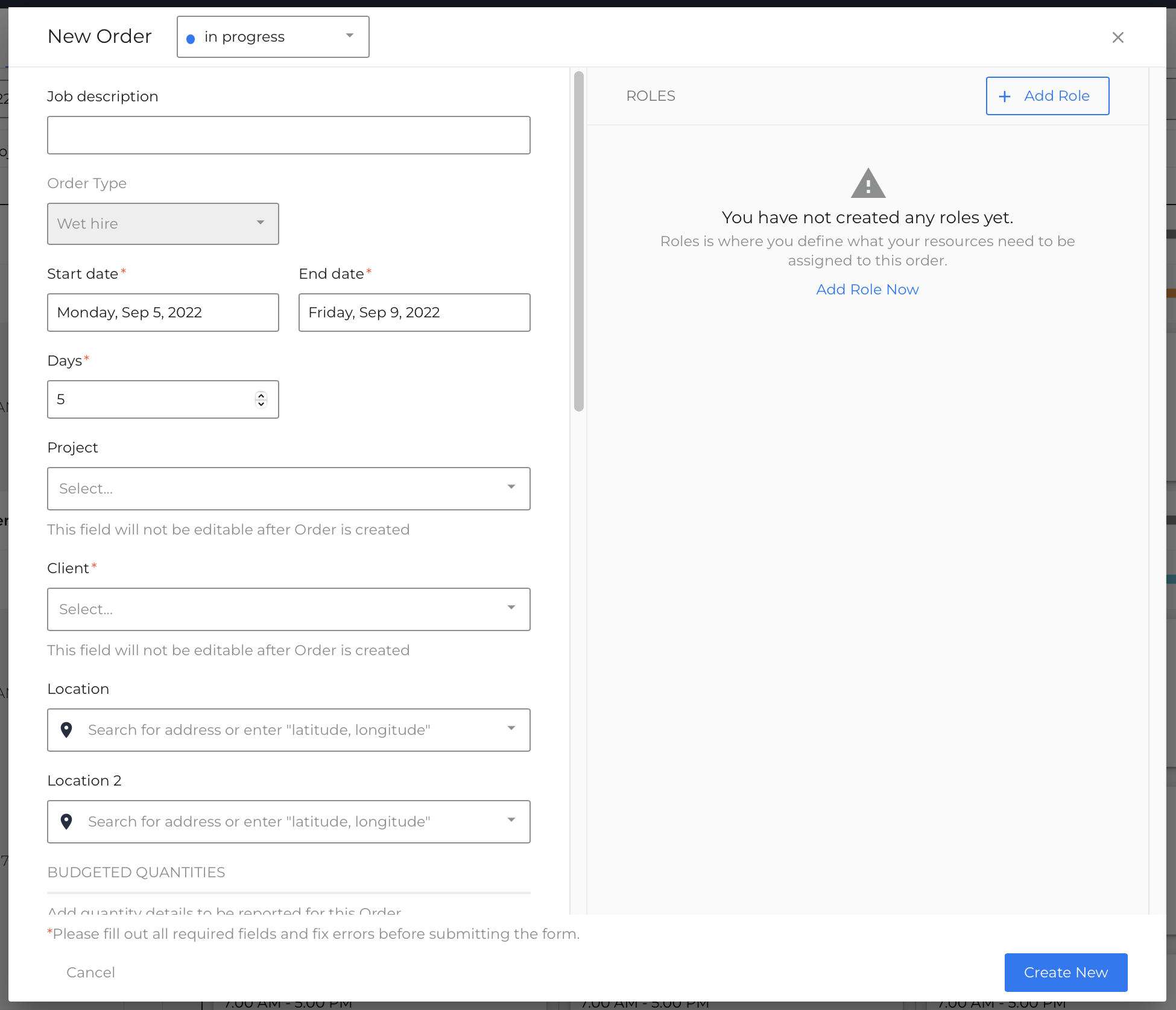 Typically, you'll start with
Enter a Job Description - this describes what your team will be doing on this job, and will appear throughout Assignar, from the Scheduler, to Daily Log and Site Diary.
Set the Start Date and End Date. Alternatively, you can set the Start Date, and the duration in Days.
Select the Project - when you set the project, then the project's Client will be filled in, as will the Location for the job. See Creating Projects for more details on how to set up Projects in Assignar.
If the Location is different to the Project location, you can set that here too.
Next, Set up Roles
On the right-hand side of the Order screen is where you add and configure the Roles and Shifts for this job. When you add a Role, you should then set up:
Qty - the number of workers you'll need performing this role on this shift
Start Time and End Time - the hours for this shift, which will default to the shift hours you have set in your global Settings in Assignar.
Role Dates - you can set this shift to work on specific days of the week, or select Show detailed to choose specific dates to work.
Continue with that process until you have added all the Roles required for this Order.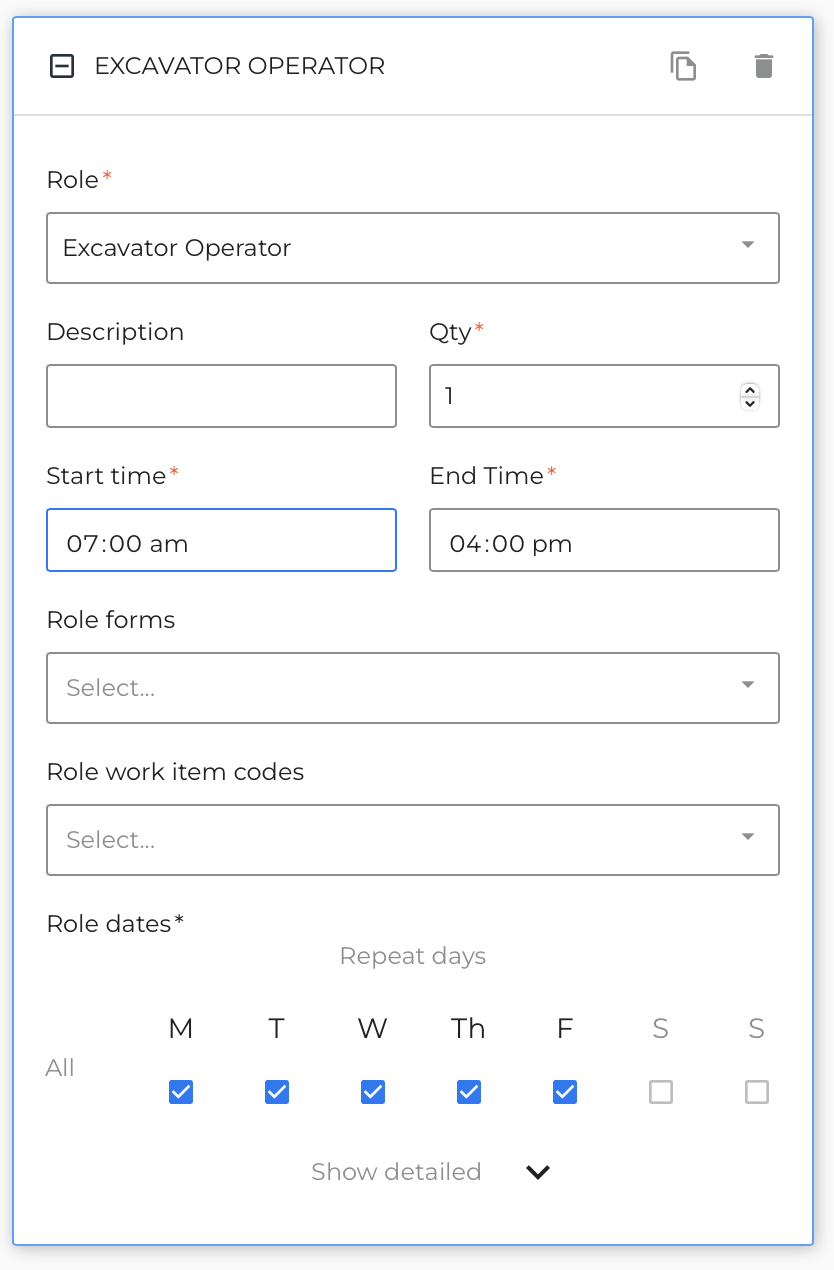 Editing Orders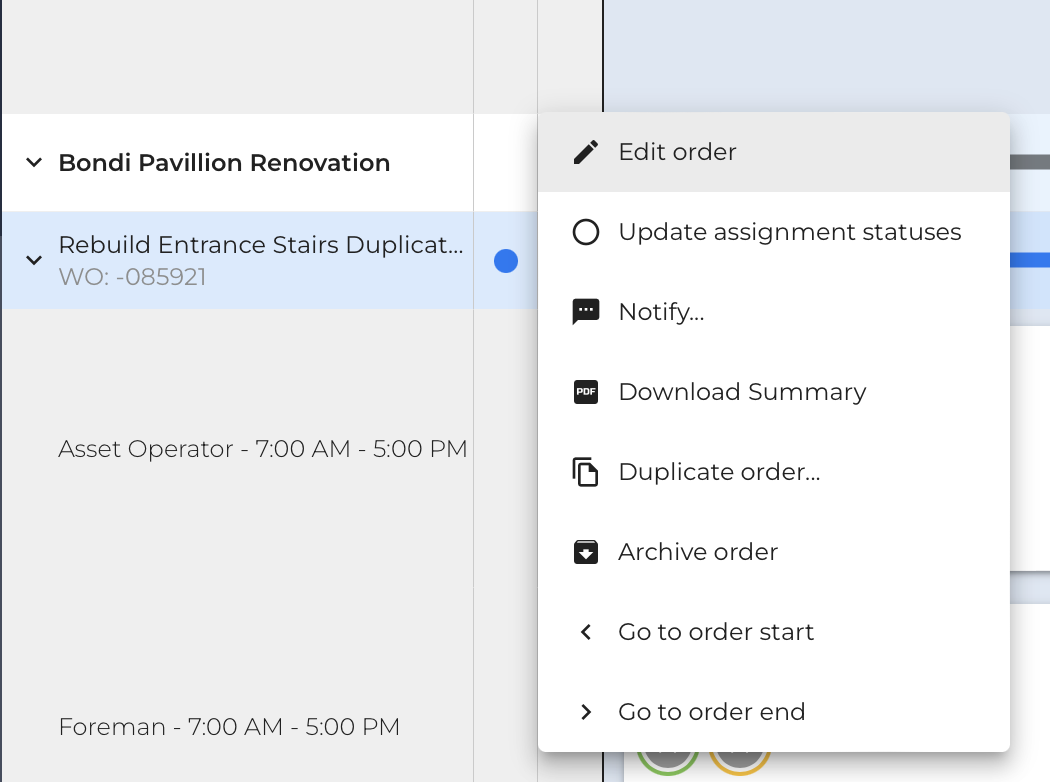 To edit an existing order, simply click the three-dot menu next to the Order's name in the scheduler to bring up the order's options menu. Selecting Edit order will return you to the order menu described above.
You can update any details of an order, including changing dates, adding or removing roles and shifts.
Assignar provides a lot of flexibility when editing an order, but there are some things to consider when editing orders:
It is not recommended to move an order if there were already timesheets or forms submitted. Assignar will warn you if you try to do this.
Changing the Project or Client may cause unexpected results if you use advanced features such as Project Roles, Competencies and Inductions. You won't be able to change the Project or Client if timesheets or forms have already been submitted.
Update Order Dates Right on the Timeline
You can also make changes to an order's dates, right on the Timeline, by dragging the bar highlighted below. Drag the center of the bar to move an order, drag the left or right bar to change the start and end dates, respectively.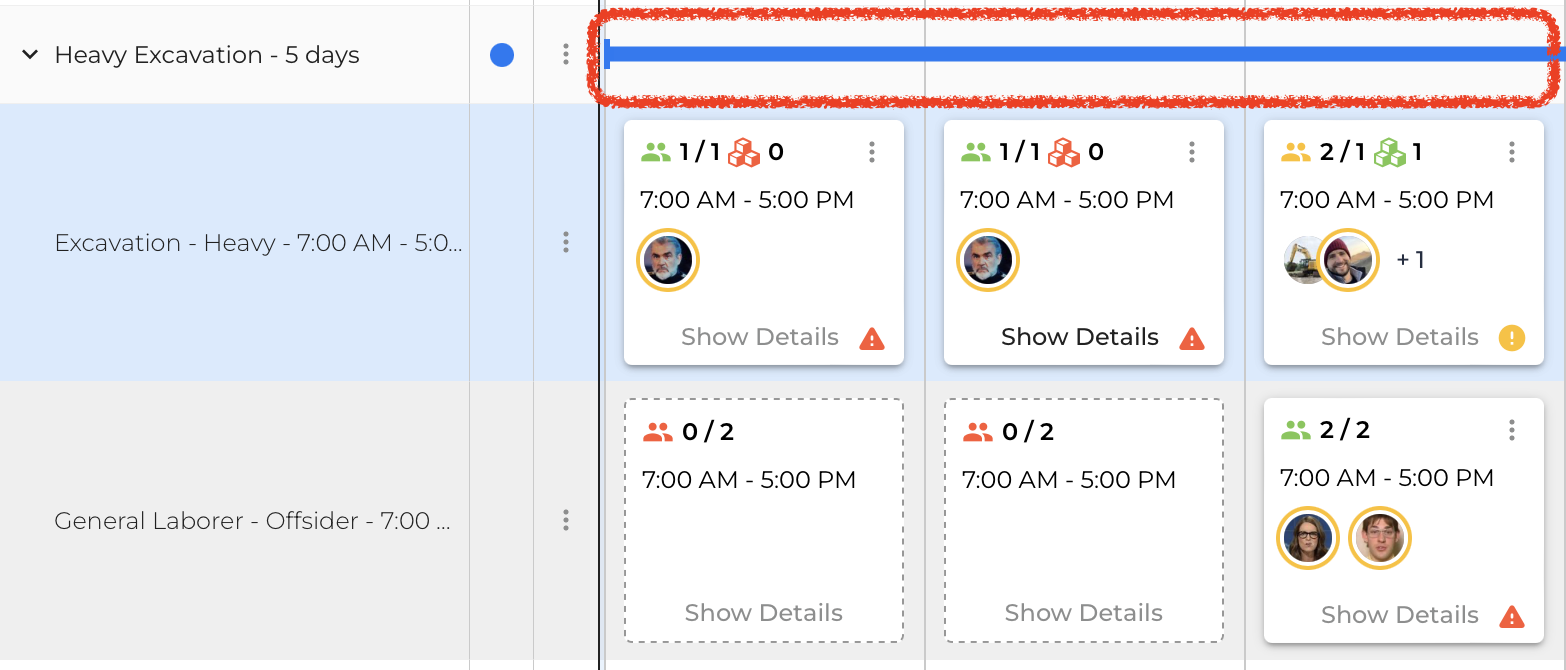 Less-Common Details on Orders
Role Forms – See Distributing Forms to Workers.
Role Work Item codes – See Site Diary.
Location 2 – if the order has a second important location, this will also be shown in the Assignment details on the worker's Assignar app.
Budgeted Quantities – See How to set a Budgeted Quantity to track progress against an Order.
Comments – Add any notes, especially if you need your work crew to see them.
Supplier – Set a supplier if you only want that supplier's workers or assets to be available when Assigning resources. See Basics: Associating workers or assets to a supplier.
Client Contacts – Useful if your fieldworkers will need to contact a client representative, or email them a Site Diary. See Client Basics: Clients.
WO and PO – useful if you have an internal order ID that you need to track.
Tags – See How To Use Tags.
Attachments – attach any documents that your work crew need to access related to this Order.