Find Scheduling Issues with Assignar Signals™
Assignar Signals can help you make better scheduling decisions. Whether you're initially planning your work, or you need to resolve issues from a scheduling change, Assignar Signals can help.
Note: In this document, we refer to Assignments, which some customers know as Allocations.
Assignar Signals within Shift Cards
Switch the Timeline to a 1 week view. Any shift that has an issue with an assignment will have a signal (red alert triangle in this case). This indicates that a worker or piece of equipment can't be available for this shift because of:
Overlapping Assignments
Unavailability due to Leave or Non Working Days
Missing or expired Competencies and Skills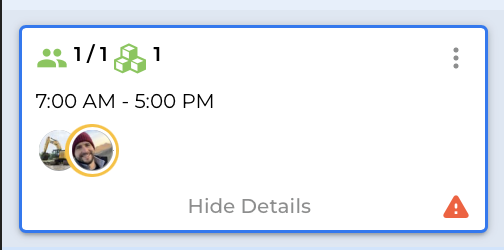 If the worker is missing a required induction (orientation), or their induction has expired, you will see a yellow "Warning Signal":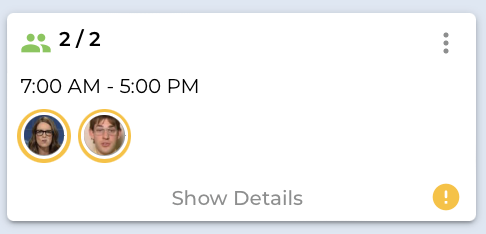 Review Issues with the Shift Drawer
When you click "Show Details" on any shift card, you will bring up the "Shift Drawer", a place where you can see and resolve any issues, as well as change the assignment status for one or more workers on the shift. (Read more: Updating Assignment Statuses)
Select a worker to see details about all the Signals relating to that worker. As shown below, Jared has an overlapping assignment, as well as a missing induction.