Introduction
In this article you will learn how to add new equipment to Assignar and get it ready for work on the jobsite. It is important to get all of your equipment added into Assignar so that you can get it scheduled and begin tracking time against your machines.
Adding New Equipment
There are 2 ways to add new equipment to the Assignar platform. The first is through our Assisted Data Import tool. You can also add equipment by using the Add New Equipment form in the Web Application.
To get started click Resources on the left side navigation the click Equipment (also called Assets). This will open the equipment list page where you can view/edit existing Equipment as well as add new Equipment records.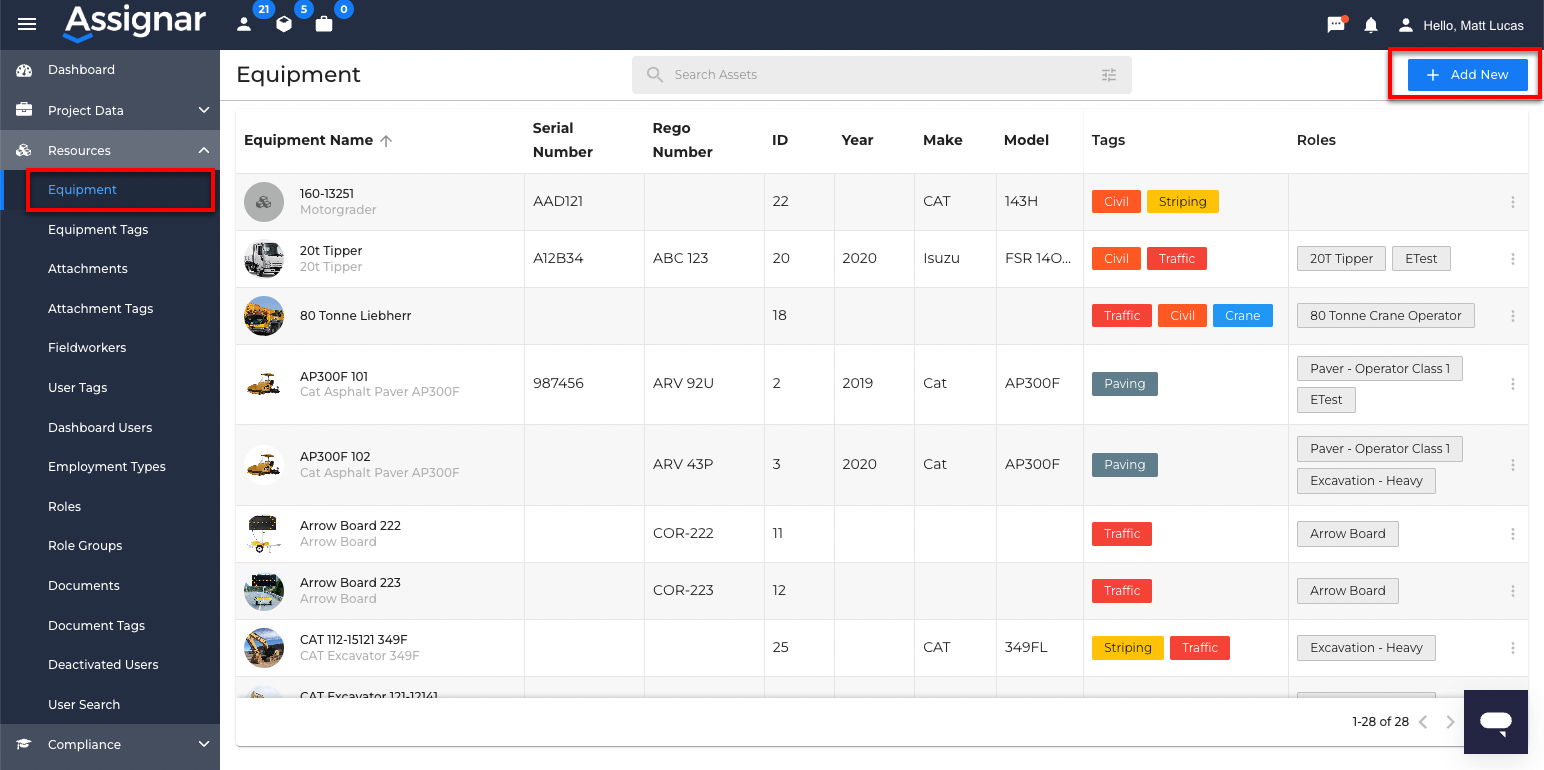 After clicking the + Add New button a form will appear to enter your Equipment's information. Please view a description of all fields below, fields marked with a (*) are required.
Field Name
Description
Equipment Name

*

Unique Name of the Equipment
Serial Number
VIN or other Serial Number identifier
Description
General description
Year
Year of equipment manufacture
Make
Equipment Make
Model
Equipment Model
Number Reading
Odometer or Hours reading for equipment
Registration Number
Registration or License Plate Number
Skills
Skills required to operate this equipment
Suppliers
Equipment can be linked to suppliers like rental companies.
Tags
Equipment tags are used to group similar equipment to make them easy to find and schedule.
Roles
Roles are the type of work that the equipment can do when paired with an operator.
For additional detail about your equipment click the arrow box icon in the slide out form. This will open the full details page where you can see additional equipment information, view equipment documents, review form results and view journal entries. For more information on equipment view more articles under the All Features category.
Next Steps
Now that you have added Fieldworkers and Equipment lets review how you will create Roles that can be scheduled to the jobsite.