Introduction
In this article you will learn how to set up and manage your Clients in Assignar. Having your Clients in Assignar means that you will be able to build a collection of Projects and Orders under them. You will also be able to manage any specific compliances needed when working with the Client such as Safety or Site inductions. Finally you will be able to filter your data and build custom reports by Client to get a holistic view of your relationship with your customer.
Adding New Clients
There are 2 ways to add new equipment to the Assignar platform. The first is through our Assisted Data Import tool, this is great if you already have a spreadsheet of all of your customers and their information. You can also add clients by using the Add New Client form in the Web Application.
To get started click Project Data on the left side navigation and then click Client. This will open the Clients list page where you can view/edit existing Clients as well as add new Client records.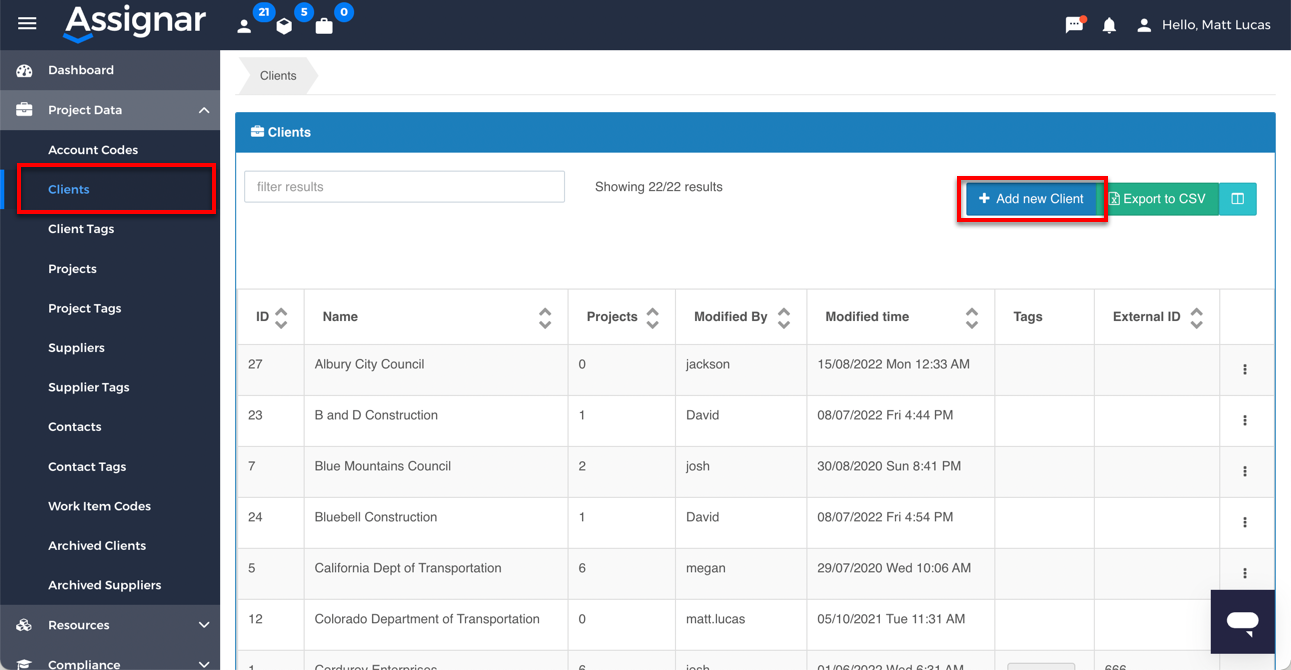 Click the + Add New Client button and a form will appear to enter your Client's information. Read below for a description of all the fields and settings for Clients.
Client Name - The name of the client's business, make this descriptive enough to be found easily when searching.
Active/Inactive - If you no longer do business with a client you can mark them "inactive", if you start doing business with them again you can set them back to "active".
External ID - An identifier from your billing or invoicing system so you can export from Assignar.
Inductions - Any client specific inductions needed to perform work on one of their projects.
Competencies - Any client specific competencies needed to perform work on one of their projects.
Role Group - A group of roles specifically made for this client or this type of client.
Docket Templates - A specific docket template that is to be used when working with this customer.
Docket Contacts - A specific set of contacts from this customer that sign off on dockets.
Contacts - Contact information for employees of this customer.
Tags - Client tags are used to more easily search for and group similar customers.
Tax ID / ABN - Business registration number that may be required for billing or taxes.
Email - Primary email for the client.
Office Phone - Customer's business line.
Mobile - Customer's mobile line.
Address - Customer's physical address either mailing or shipping.
Comments - General comments about the customer.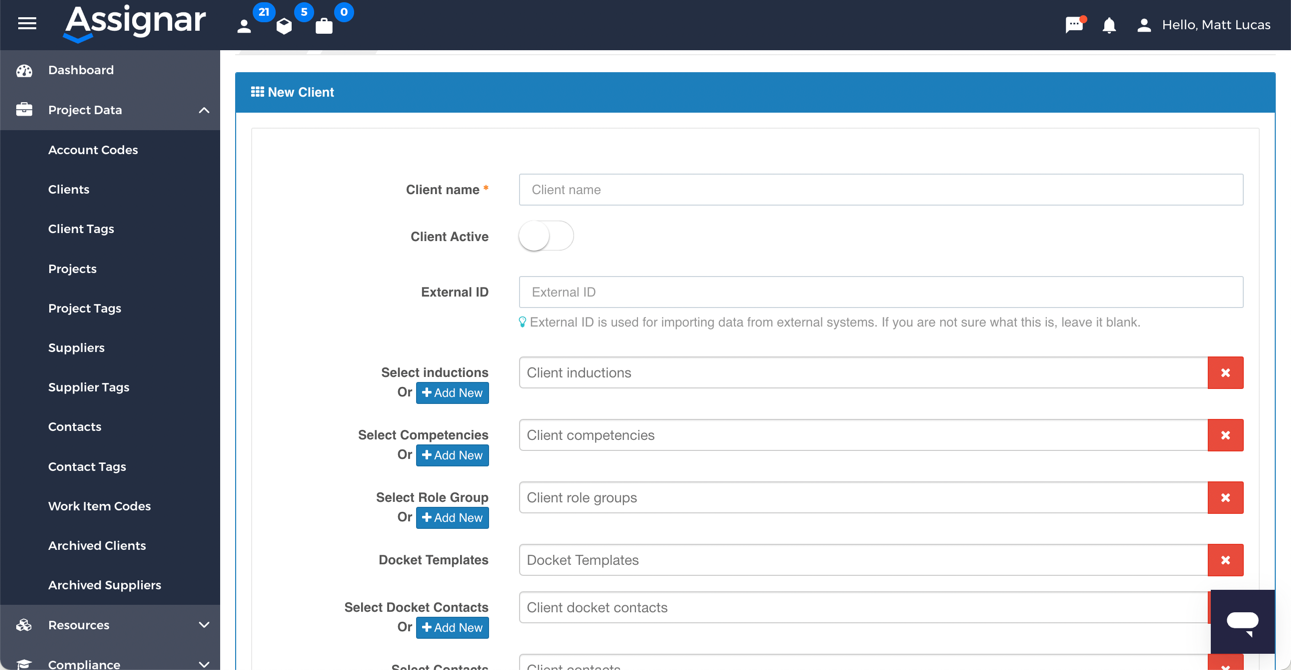 After you have added all of the needed Client information click save. Now you will be able to add Projects and Orders under this customer.
Next Steps
Now that you have learned the basics of Assignar and have loaded your critical data, you are ready to move on to learning the Scheduler. You will learn how to create new work orders and schedule your resources.