For our customers, rarely do jobs go exactly according to plan. Dependencies on materials, bad weather, or unplanned absences can throw a wrench into your plans quite quickly. In this article we will show you how to update your orders and resourcing plans to keep jobs moving forward.
How to edit an Order on the Details Form
From the Scheduler page, click the icon
Edit Order
The Order details form will then open, where you can modify the order information, required resources, status or dates.

Update Order Status on the Timeline
Without leaving the timeline view you are able to change the status by clicking the

icon at the end of the order name or by using the status dropdown like below.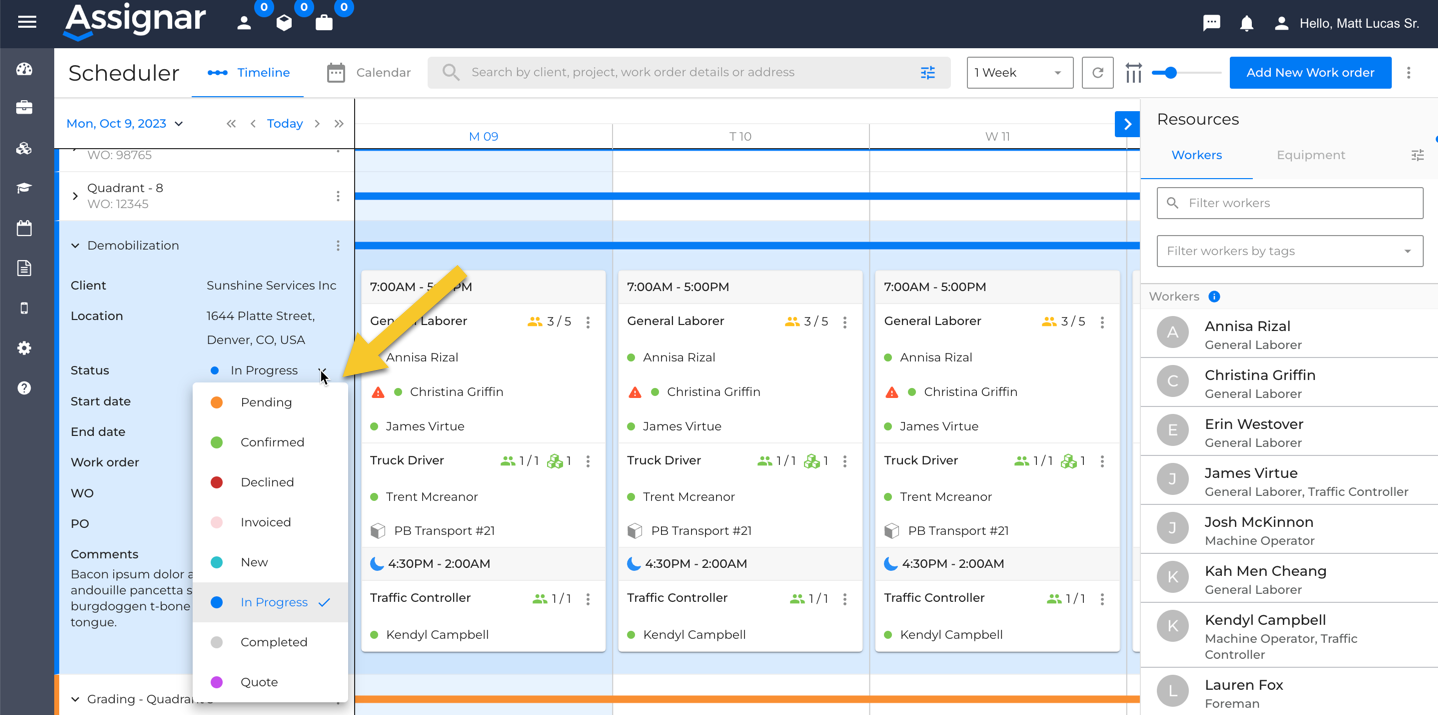 Updating Order Dates on the Timeline
Each order on your schedule has a bar representing the duration of the order. This bar can be used to change order dates. If you click and hold anywhere on the bar and move your cursor to the right or left you will be able to change the start and end date of the order. Also, if you grab the very end or beginning of the bar you can extend the start or end date by dragging right or left. When extending an order you can re-book all resources for the extra days. Watch the video to see how.
Removing Workers from the Schedule
You can remove workers from the schedule for a day (maybe because they are out sick) or multiple days (maybe because they are going to work a different job).
To remove a worker from one day:
Hover over their name and click the icon.
Confirm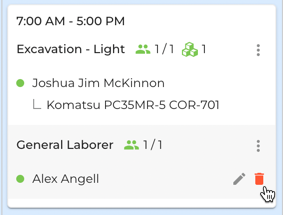 To remove a worker from a particular day and onwards:
Hover over their name and click the icon.
Delete
You will then see a pop up, with the option to remove just for a day or all future dates. If you need to re-task someone make sure to use this option to clear that person from the job quickly.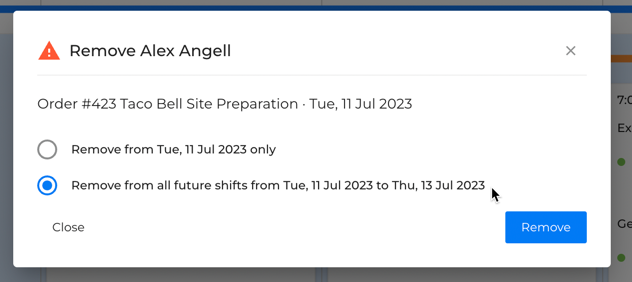 If you need to remove multiple resources from a role:
Next to the role name, click the icon.
Remove Resources.
Some things to consider when editing an Order
We don't recommend moving an Order, especially if there were already Timesheets or Forms submitted. We will warn you if you try to do this.
Changing the Project or Client may cause unexpected results if you use advanced features such as Project Roles, Competencies and Inductions.
You won't be able to change the Project or Client, if Timesheets or Forms have already been submitted.