You can create Dashboard user accounts, for those who need access to the Assignar Web App.
How to add a Dashboard User to Assignar
Under Resources, go to the Dashboard Users page.
Tap Add new Dashboard user
Complete required fields
Save User
Here's a description of the fields that are available for you to complete about this Dashboard user.
Field
Description
User Photo
Image Upload
Employee ID
Used to hold an ID from another application for easy data syncing.
First Name

*

The users first name.
Last Name

*

The users last name.
User Name

*

Username is the users unique id used to login.
Email Address

*

The user's email address.
DOB
The user's date of birth.
Mobile
The user's mobile phone number.
Address
The user's home address
City / Suburb
The user's home city / suburb
State
The user's home state.
Zip Code / Post Code
The users home zip code / post code.
Emergency Contact
The user's emergency contact person.
Emergency Phone
The emergency contact person's phone number.
Comments
General space for comments about the user.
Tags
User tags are used to group users and make them easy to search for.
Suppliers
If the user is external to your company you can register them with a supplier.
After you've saved, let's setup their user permissions
After you've created and saved your dashboard user's information, you'll need to set their user access permissions. These settings control which types of data the user can create and edit in the Assignar Web App.
After you tapped Save User above, you will then land on the User Access page.
Edit as required
Save access settings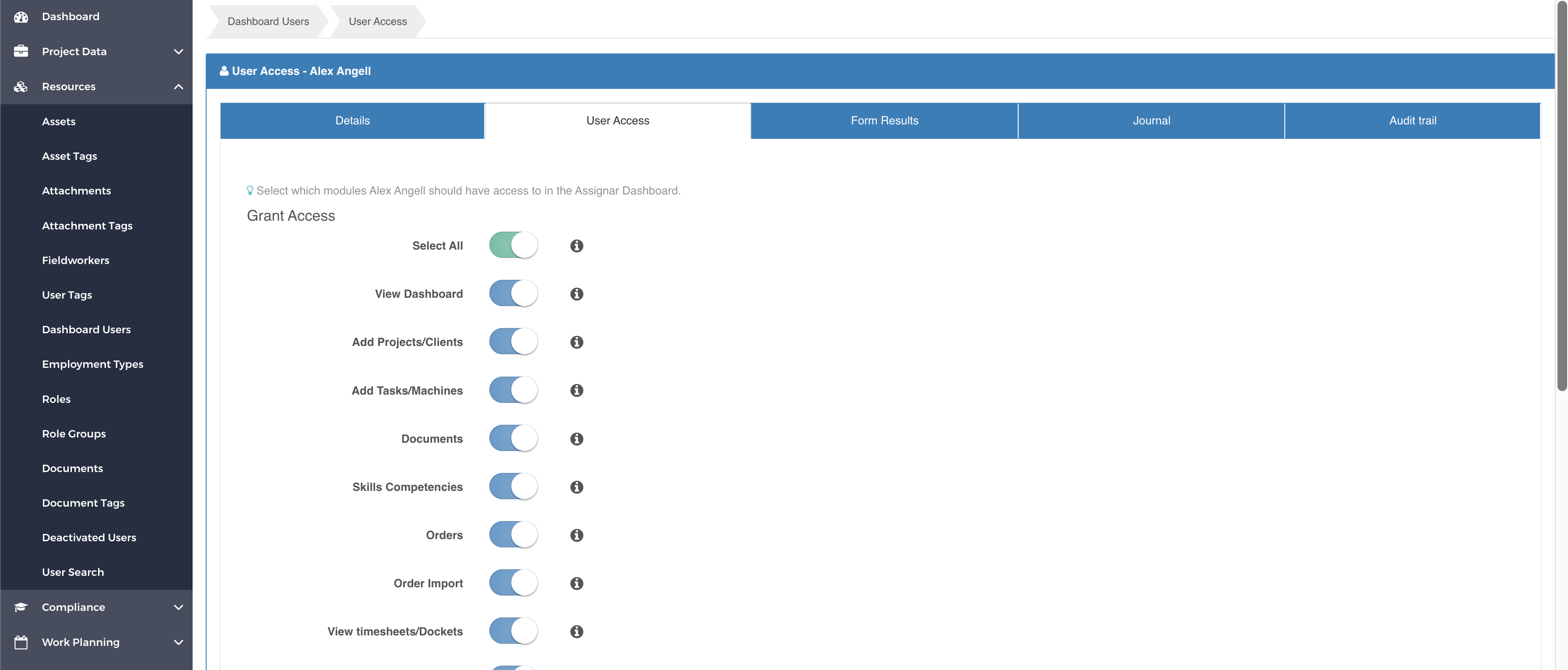 After the Dashboard User has been setup, they can then log into the Assignar Web App.
The Dashboard user can login to the Assignar Web App, using the credentials (Client ID and Username) that you set up above.